The purpose of the National Salute to Veteran Patients Program is to:
pay tribute and express appreciation to Veterans;

increase community awareness of the role of the VA medical center;

encourage citizens to visit hospitalized Veterans and to become involved as volunteers.
The week of February 14 each year is your opportunity to say thank you to a special group of men and women, more than 98,000 Veterans of the U.S. armed services who are cared for every day in Department of Veterans Affairs (VA) medical centers, outpatient clinics, domiciliaries, and nursing homes. The 2013 National Salute program is scheduled for February 10 - 16.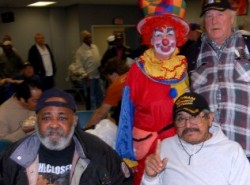 Veterans are entertained during National Salute week.
During the National Salute, VA invites individuals, Veterans groups, military personnel, civic organizations, businesses, schools, local media, celebrities and sports stars to participate in a variety of activities at the VA medical centers. The activities and events include special ward visits and valentine distributions; photo opportunities; school essay contests; special recreation activities and Veteran recognition programs.
The week also provides an opportunity for the community to become acquainted with the volunteer opportunities within the medical center.
Also during National Salute week, selected cities host concerts that are free to Veterans and their families. The concert schedule is usually available around the first of January. Please check back then for a list of the cities that will be hosting the events. Many thanks to the organizational donors that make these concerts a success!
Contact your nearest VA Medical Center and ask for Voluntary Service to discover the wonderful things you, your group or organization can do to salute America's Heroes. Locate the facility nearest you.
---
Chairperson for the 2013 National Salute to Veteran Patients:
Charlie Murphy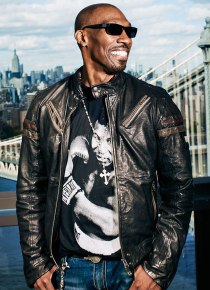 Charlie Murphy
Actor/comedian Charlie Murphy, a Navy Veteran, will serve as the chairman of the Department of Veterans Affairs (VA) 2013 National Salute to Veteran Patients.
Rapidly evolving from a cast member of "Chappelle's Show" to top-billed international comedian, playing to sold-out audiences around the globe, Charlie has spent nearly a decade performing stand-up and solidifying his position in Hollywood as a true acting, writing and producing talent.
Charlie has toured nationally with fellow actors/comedians Bill Burr and Donnell Rawlings, and the headlining tour "I Will Not Apologize" for which Murphy filmed his first DVD special of the same title.
His feature films include: Moving Day, Lottery Ticket, Our Family Wedding, A Perfect Holiday, Kings Ransom, Roll Bounce, Chris Rock's classic hip-hop parody CB4, Spike Lee's Jungle Fever and Mo' Betta Blues, Unearthed, Night At The Museum and Harlem Nights.
Charlie wrote, produced, and starred in Charlie Murphy's Crash Comedy, a series of webisodes for Sony Entertainment's Crackle.com. His web presence is bolstered by an advertising campaign for Nike's Jordan Brand, featuring Charlie as long time Jordan nemesis/inspiration Leroy Smith. His autobiographical book entitled The Making of a Stand Up Guy, was published by Simon and Schuster and he is currently preparing to film his second live stand up DVD, "Charlie Murphy's Acid Trip".