Attention A T users. To access the menus on this page please perform the following steps. 1. Please switch auto forms mode to off. 2. Hit enter to expand a main menu option (Health, Benefits, etc). 3. To enter and activate the submenu links, hit the down arrow. You will now be able to tab or arrow up or down through the submenu options to access/activate the submenu links.

National Salute to Veteran Patients
Valentines for Veterans
2016 Concert Schedule
February 6
Aaron Tippin
Sioux Falls, SD
February 11
The Miracles
Los Angeles, CA
February 13
Exile
Columbus, OH
February 13
The Kentucky Headhunters
Marion, IL
February 14
The Miracles
Indianapolis, IN
February 19
Jon Sousan
Poplar Bluff, MO
March 12
The Miracles
Atlanta, GA
March 20
The Miracles
Las Vegas, NV
May 7
The Miracles
Charleston, SC
May 21
The Miracles
Cleveland, OH
July 2
The Miracles
Washington, DC
TBD
The Miracles
Chicago, IL
The purpose of the National Salute to Veteran Patients Program is to:
pay tribute and express appreciation to Veterans;

increase community awareness of the role of the VA medical center;

encourage citizens to visit hospitalized Veterans and to become involved as volunteers.
The week of February 14 each year is your opportunity to say thank you to a special group of men and women, more than 98,000 Veterans of the U.S. armed services who are cared for every day in Department of Veterans Affairs (VA) medical centers, outpatient clinics, domiciliaries, and nursing homes.
During the National Salute, VA invites individuals, Veterans groups, military personnel, civic organizations, businesses, schools, local media, celebrities and sports stars to participate in a variety of activities at the VA medical centers. The activities and events include special ward visits and valentine distributions; photo opportunities; school essay contests; special recreation activities and Veteran recognition programs.
The week also provides an opportunity for the community to become acquainted with the volunteer opportunities within the medical center.
Also during National Salute week, selected cities host concerts that are free to Veterans and their families. The concert schedule is usually available around the first of January. Please check back then for a list of the cities that will be hosting the events. Many thanks to the organizational donors that make these concerts a success!
Contact your nearest VA Medical Center and ask for Voluntary Service to discover the wonderful things you, your group or organization can do to salute America's Heroes. Locate the facility nearest you.
Connie Stevens, Chairperson for the 2016 National Salute to Veteran Patients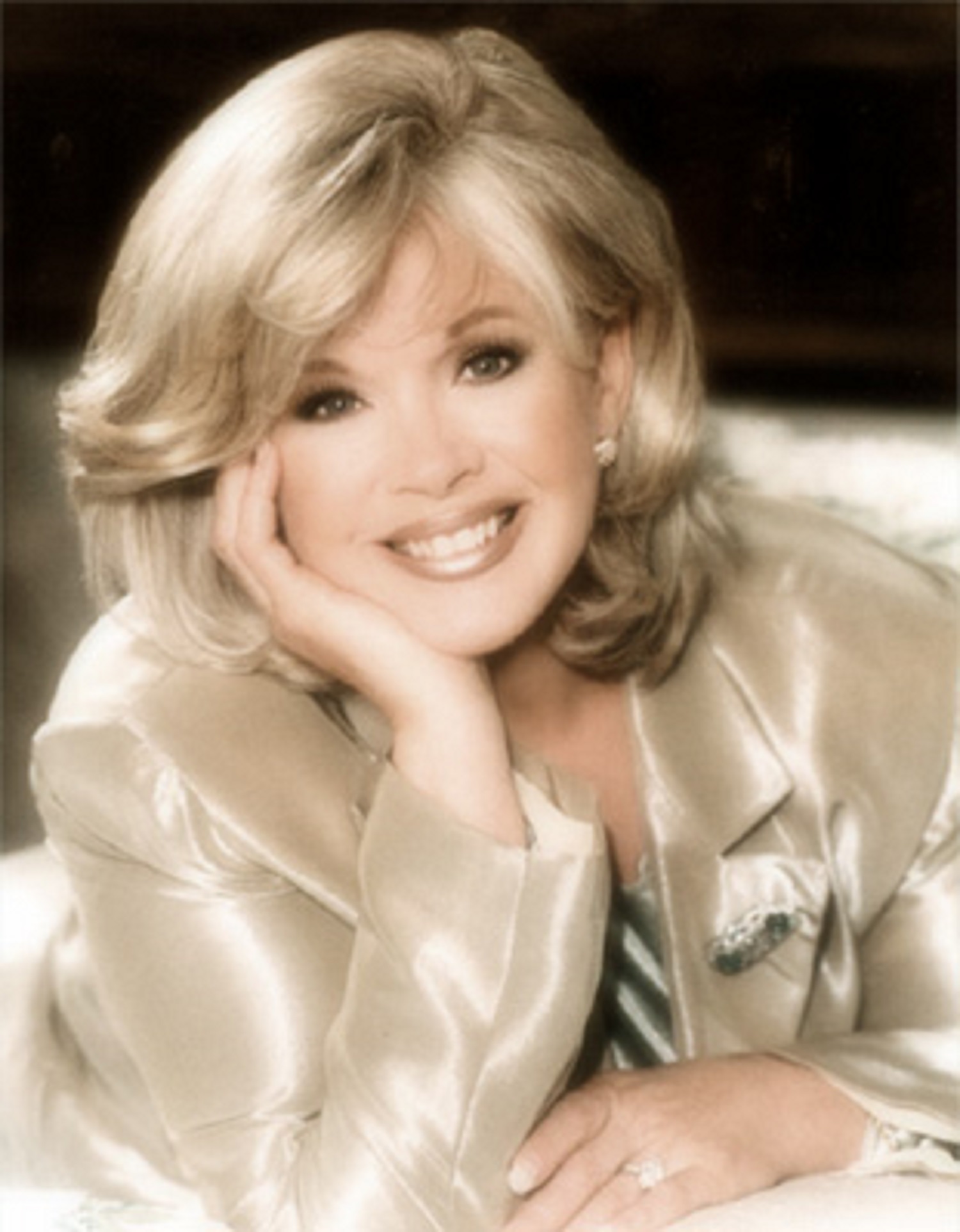 Connie Stevens
It is rare that an actress can successfully transcend the entertainment gamut from Motion Picture Star, Television Star, Broadway Star, Recording Artist, to the concert stage and then on to develop a successful cosmetic empire. In a career that has spanned over 30 years, Connie Stevens has gained worldwide popularity and recognition as a multi-talented performer, producer, and most recently, as a major force in the business arena, all the while managing to remain a timeless classic beauty. Ever youthful, dynamic, vivacious, versatile and savvy are the words used to describe the actress who has truly earned the title of a "Woman for all Seasons."
Her international reputation has made its mark in show business history, having performed for four U.S. Presidents at the White House and the Kennedy Center, and her dedication overseas for the U.S. Military in Vietnam and the Persian Gulf as one of Veterans Across America's all-time favorites. Connie continues to headline in Las Vegas and continues to perform in live concerts in Atlantic City, New York, Los Angeles, and other major concert venues worldwide.
Her musical artistry began when she first sang in a group called The Three Debs at age 16. She then went on to record as a solo artist on the Warner Brothers label. Connie was the first artist signed on the newly formed Warner Brothers Records. She recorded two mega-hits in the early sixties, "Kookie Kookie (Lend Me Your Comb)", a duet with Ed, "Kookie" Burns, one of the stars of the TV series "77 Sunset Strip", and the number one record in the country in 1961, "Sixteen Reasons".
Every Star has an original claim to fame, and though she has since become familiar to millions, it was her endearing and classic role as "Cricket Blake" in the hit series "Hawaiian Eye" that made Connie Stevens a household name.
Connie's career as an actress began with roles in films like "Eighteen and Anxious", starring Jim Backus; "Young and Dangerous", "Party Crashers" and introduced by Jerry Lewis in Frank Tashlin's Paramount musical film "Rock-a-Bye Baby". Eventually these roles led to "Cricket Blake" in the TV series "Hawaiian Eye", which ran on ABC for four years.
In the early 1960's, Connie appeared with heartthrob Troy Donahue in a series of films which include "Parish" and "Palm Springs Weekend". Connie later appeared in "Two on a Guillotine", "The Grissom Gang" and "Never Too Late". She then returned to the 1950's with a role in "Grease 2" starring Maxwell Caulfield and Michelle Pfieffer. Some of Connie's other films include "Back to the Beach", with Annette Funicello and Frankie Avalon, and "Tapeheads", starring Tim Robins and John Cusack. Most recently, she was in "James Dean Race with Destiny" and soon to be released "Mickey Stern".
Connie has always maintained a steady line of various roles on television, receiving critical acclaim for her controversial role and performance in the ABC-TV Movie of the Week, "The Sex Symbol", Connie showed a powerful reserve of dramatic talents that gave her thinly disguised portrayal of Marilyn Monroe a life of its own.
Connie starred opposite George Burns in the popular TV series, "Wendy and Me". She also starred in "Starting from Scratch", "Scruples", "Bring me the Head of Dobie Gillis", "Murder She Wrote" and the most popular guest on "The Love Boat".
She was Neil Simon's "Star Spangled Girl" on Broadway, co-starring Anthony Perkins and Dick Benjamin. She has also been one of America's premiere live performers, headlining in Las Vegas for over 15 years and the larger theater venues all over the United States.
Most recently, Connie Stevens, the savvy entrepreneur, has proven herself in the business arena as well, creating Forever Spring, a cosmetic empire that has spawned over 300 popular products that include skin care, make up, and hair care items, fragrances, among many others. Stevens' hands-on approach to the business allows her to give her signature touch to every product.
Connie feels her crowning achievement, and the pride and joy of her life, are her daughters Joely and Tricia Leigh Fisher, from her marriage to Eddie Fisher. Connie single handedly raised both daughters while maintaining her filming and touring schedules.
Connie has devoted much of her time and influence to help those less fortunate and her work with Native American Indians is widely recognized. Connie's project Windfeather of 12 years has enabled the awarding of 83 college scholarships for Native American Youths, the delivery of surplus goods to Indian reservations nationwide and summer camps for Native American children who have never left the reservation.
Stevens, the film maker, completed producing and directing A Healing, a feature film documentary dedicated to the women, and the young warriors they attended to, who served in the U.S./Vietnam conflict. A Healing follows a three-week reunion journey through Vietnam of 100 women in 1995, who served in this conflict some 26 years ago. Stevens' journeyed with them to find closure to this bizarre interlude. This award winning documentary is their story played out with compelling sensitivity, trust, compassion and drama. Introduced by Jack Valenti, President of the Motion Picture Association of America, A Healing which she personally directed and edited, the proceeds of which will go to several veteran charities. In addition, she has made landmark strides with "Dignity" in Jackson Hole, Wyoming, helping the mentally and physically challenged to become working members of the community. Hosting her annual Celebrity Ski Extravaganza, Connie has enabled the development of programs and a facility to house and educate these people, newly dedicated as the Connie Stevens Center for Independent Living. An added bonus was news that as a result of an annual pilot program of "Don't Drink and Drive," celebrity PSA's that Connie created, Wyoming, for the first time in history, boasted a record of ZERO teenage deaths on the highway. She is now involved in plans to build the first resort hotel for children and young adults with special needs.
For her tireless work and support of others, Connie has been honored and received the coveted 1991 'Lady of Humanities' award from the Shriners Hospital, 'Humanitarian of the Year' by the Sons of Italy in Washington DC. She also was honored from "The Vietnam Veterans Association of America", as well as receiving 'The Decoration for Distinguished Civilian Service' from the United States Armed Forces, which is the highest honor that can be bestowed on a civilian.
She says of Veterans, "They are my favorite Americans." She toured with Bob Hope around the world, at major military bases, numerous hospitals and military venues. She gives of her time to Veterans whenever needed - from Korea to Vietnam to the Persian Gulf. This year Connie Stevens adds VA Voluntary Service National Salute Chair to Veteran Patients to her continuing service to our Veterans. As Chair in 2016 her role will coincide with the VAVS 70th Anniversary.
return to top